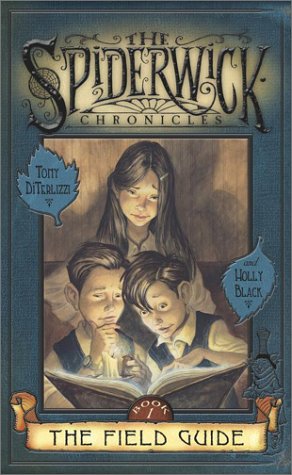 'When the three Grace children -- Mallory, Jared, and Simon -- and their mom move into Aunt Lucinda's old house, readers know there's magic afoot. The kids uncover a nest of assembled junk, and on a visit to the secret library via the dumbwaiter, Jared finds a note describing "my secret to all mankind." After a few mysterious pranks that get blamed on Jared, the boy finally digs up the real prize: Arthur Spiderwick's Field Guide to the Fantastical World Around You. Fortunately enough, the kids meet one of the critters listed in the guide -- a brownie named Thimbletack -- who makes it all "real" and helps provide the book's suspenseful conclusion: "'Throw the book away, toss it in a fire. If you do not heed, you will draw their ire.''
This book is the first of five in the Spiderwick Chronicles. I will be reviewing each of them separately on this blog, to tie in with my comprehensive review of the entire series and the movie on my YouTube channel, so I will leave a link to that video after I have posted it.
This book revovles around three siblings, Jared, Simon and Mallory Grace, who move to their old aunt's ramshackle house after their dad leaves. Although this is a children's book, there were deeper emotions running throughout the story regarding their family situation, and at times I did really feel for the Grace children, especially Jared, when their actions hinted at what they were really feeling inside.
The writing was beautiful; very simple, and straight to the point, but still descriptive enough to make everything within the novel seem vivid and real. The writing made it very easy to whiz through, and even though the book is only short, helped by fly through it even quicker.
The Field Guide really sets up the foundations of the entire story told throughout the series, introducing us to Arthur Spiderwick, the creator of the Field Guide, and we also have an introduction to some of the fantastical creatures that I'm sure will feature heavily onwards throughout the series.
I also just want to mention the illustrations in the book as I felt they added a lot to the overall feel of the story and really made the book beautiful. Overall, I gave The Field Guide 5/5 stars, and am happy to say that I enjoyed it a lot more than I expected to. I recommend that you pick it up if you haven't already!