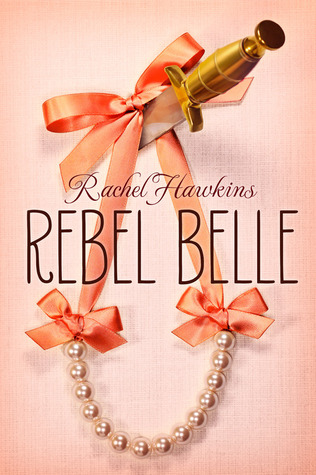 Harper Price, peerless Southern belle, was born ready for a Homecoming tiara. But after a strange run-in at the dance imbues her with incredible abilities, Harper's destiny takes a turn for the seriously weird. She becomes a Paladin, one of an ancient line of guardians with agility, super strength and lethal fighting instincts.

Just when life can't get any more disastrously crazy, Harper finds out who she's charged to protect: David Stark, school reporter, subject of a mysterious prophecy and possibly Harper's least favorite person. But things get complicated when Harper starts falling for him--and discovers that David's own fate could very well be to destroy Earth.
I LOVED this book! You will all know how much I loved the Hex Hall trilogy after my gushing review of it last year, so my expectations were extremely high for this book, and they were ALL SURPASSED.
First, one word: HILARIOUS. As always, Rachel Hawkins combines effortless humour with wit and sarcasm in probably every other word that she writes. I'm not joking.
The characters were amazing, especially David. Ahhhh, David. *refrains from inserting heart emoji* So witty and sarcastic and hilarious and yes I just used the same adjectives as in the above paragraph but whenever David comes on to the scene I can't. Simply can't. He may not fit the part of your usual heart throb with his wacky dress sense and awkward social skills, but he's SO CUTE.
Harper was an amazing main character as well - I especially liked how she appears perfect and like she has everything, and yet underneath there are flaws and insecurities that could easily have been left out by the author to make her the ultimate heroine. But they weren't, and I'm glad, because that's what endeared her to me the most!
And now we come to the ending. THAT ENDING. I don't even know what to say. I think it's 3 weeks since I finished the book and I still cry and rejoice simultaneously inside every time I think of it. Much sad, very pain, all of that jazz. I'm so ready for the next one!
5/5 stars. Obvs.